This option can be found in the I-Tel menu, option 16. I-Tel system control options then option 5. Phone number maintenance options.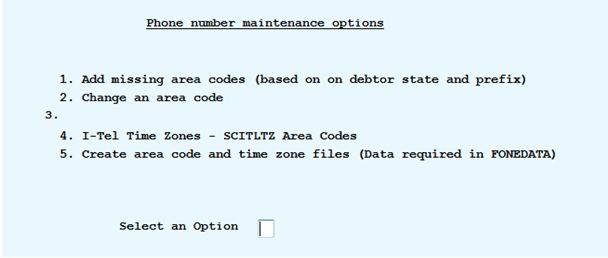 Within this option (screen shot attached) you will have the following features.
Add missing area codes – This option allows you to update current records that do not have an area code or exchange. NOTE:  " Not on TZ table " with this option you will be able to add the area code and exchange
Change an area code – This option allows you to change a current area code to another area code. 
Blank - Not used.
I-Tel time zones - Allows you to manually enter area code and exchanges that may be missing from your time zone table. (time zone value must be expressed as a two character numeric value, e.g. " 5" space then 5 for Eastern time zone)
Create area code and time zone files - Used when updated Melissadata.
Keywords - Article ITel  Kbase Time Zone